Prestigious Agendis conference room in Munich to rent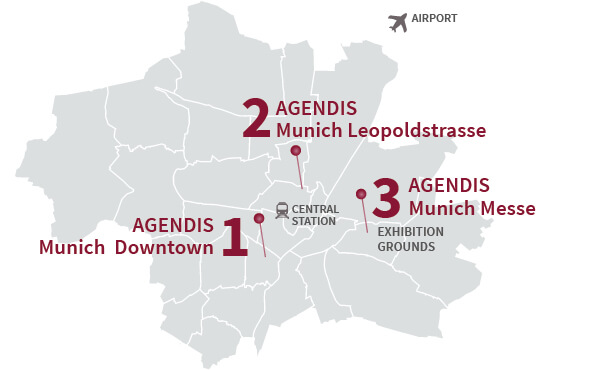 For your customer meeting, for a presentation or any other occasion you would like to rent a conference room in Munich that is prestigious and equipped with high-performance presentation technology and offers a professional environment?
Our three easily accessible Agendis Business Centers in Munich offer conference and meeting rooms rentable on short term for any need. For guests, sufficient parking units are available, and our additional services, like welcoming your guests, secretarial services and catering service, will make the organization easy for you.
Rent a conference room on an hourly basis, half a day or for a couple of days - according to your needs.
---
Benefits of an Agendis conference room in Munich:
each Agendis conference room in Munich is fully equipped and modernly furnished
three prestigious locations in modern office buildings in a sophisticated environment
short-term rental on an hourly or daily basis at your convenience
comprehensive conference and presentation technology (beamer, whiteboard, flipchart, etc.) as well as high-performance videoconferencing technology
full range packages and free internet access
individual catering
sufficient parking units at the underground parking garage
Our services at the business center:
conference room management and event preparation upon consultation
assistant services and on-site support
personal reception of your customers and guests
short-term booking also for external customers
optionally usable: first-class equipped offices and work desks / workplaces at a shared office / coworking space
---
GALLERY – conference room in Munich